Did someone order a pizza?
THE MELT - Issue #21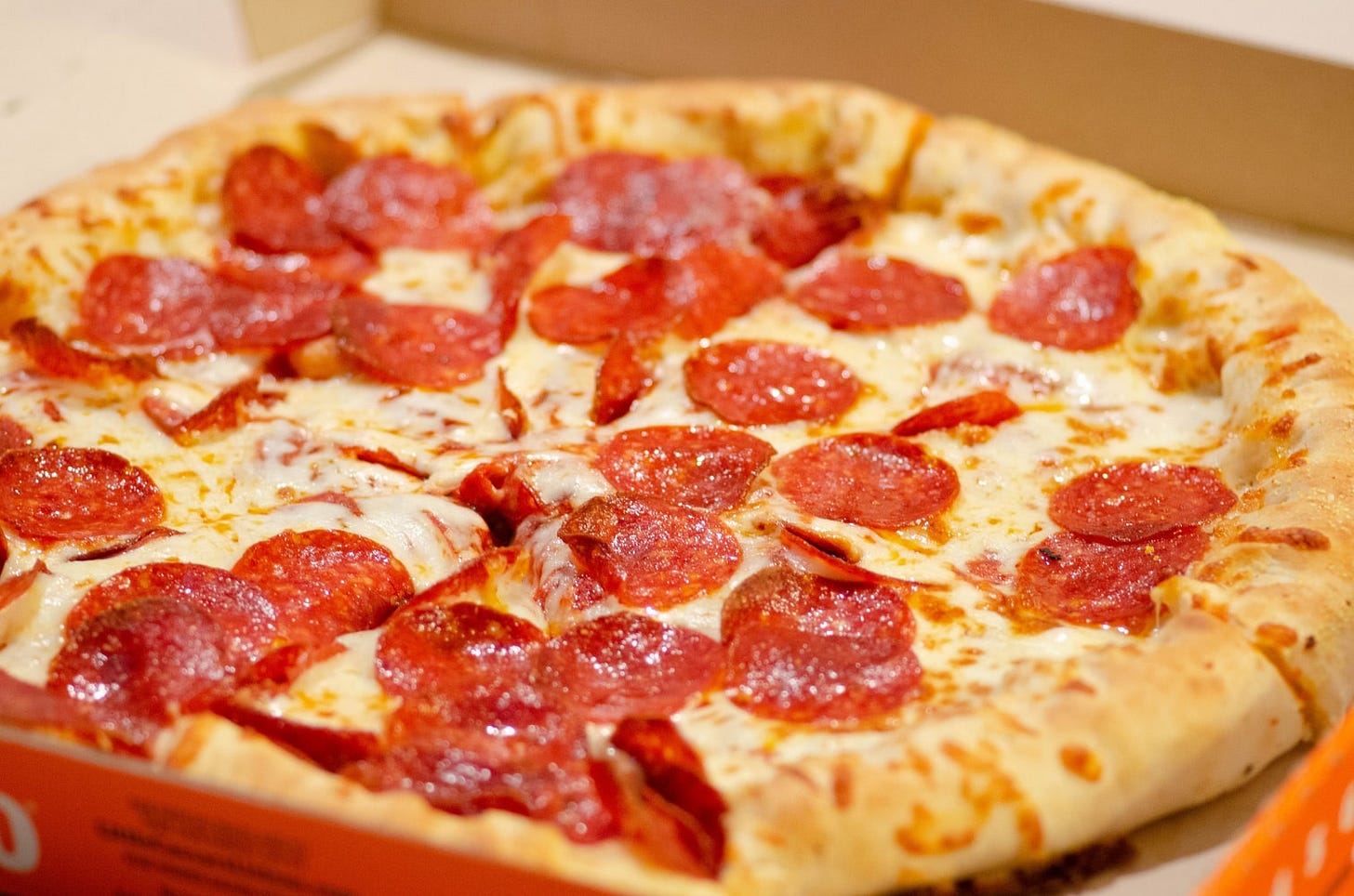 Lately, I've been wondering… how long have we known about climate change? When did we actually come to realize that our actions had consequences on a global scale?
Like, someone was the first to say, "Hey guys, I think we may be fucking up the planet a little bit."
So I did just a tiny bit of Internet sleuthing (Internestigation? Sorry.) and wanted to share some of what I learned. Here goes.
If we really wanted to, we could make a case for the very first awareness of climate change and global warming back to 1861 — same year as the onset of the American Civil War, for context — when an Irish physicist named John Tyndall proved the greenhouse effect, saying, "This aqueous vapor is a blanket more necessary to the vegetable life of England than clothing is to man."
But whatever, right? Let's ignore this Tyndall dude from almost 160 years ago. It's not like he's the namesake for England's Tyndall Centre for Climate Change Research. Besides, he didn't make any claims about carbon emissions. Sure, there weren't cars in 1861 but still! (It'd be another 25 years before Karl Benz drops the "Motorwagon.")
Really, it was 1896 when we should've damn well learned our lesson. Back then, this suave Swedish physicist-cum-chemist named Svante Arrhenius was working on a theory to explain the ice ages and calculated that increases in atmospheric carbon dioxide, through the greenhouse effect, will indeed increase the surface temperature of Earth. And then, he presented a rather brazen conclusion: general carbon dioxide emissions, burning fossil fuels, and other combustion processes, namely those by the hand of man — now with 10 years of Motorwagon shenanigans — were indeed substantial enough to cause global warming. Warning of what he called a "man-made greenhouse," Arrhenius claimed that a doubling of carbon emissions would raise Earth's temperature an alarming few degrees Celsius.
But in case you missed this announcement back in 1896, maybe you caught the New York Times report last July:
For more than 40 years, scientists have expressed the answer as a range of possible temperature increases, between 1.5 and 4.5 degrees Celsius, that will result from carbon dioxide levels doubling from preindustrial times. Now, a team of researchers has sharply narrowed the range of temperatures, tightening it to between 2.6 and 4.1 degrees Celsius.
Leave it to the New York Times for confirming reports from 125 years ago. Moving on!
No one listened to suave Svante Arrhenius in 1896, just like no one listened to John Tyndall in 1861, just like no one listened to British engineer Guy Callendar (as handsome as he was) in 1938 when he used 147 weather stations around the world to genuinely prove that temperatures had risen over the last 100 years.
Just quickly: by 1938, er— actually, by 1928 Henry Ford had already manufactured over 15 million Model T automobiles and assumed victory in the automotive industrial complex blitzkrieg on America. Cars! Lots of cars!
Ok, so now it's 1955 and another scientist, an American named Gilbert Plass, uses some new toys and tech to conclude — as Svante Arrhenius did 99 years earlier — that doubling carbon dioxide emissions would increase temperature across the planet by 3 to 4 degrees Celsius.
Yup, for 94 years scientists around the world were presenting conclusive evidence of first the greenhouse effect, then CO2-based temperature rises, and then the "man-made greenhouse" caused by burning fossil fuels… so by 1955, it was undeniable: humanity's use of fossil fuels and combustible processes is the direct cause of catastrophic global warming.
But I suppose most people, especially Americans, were a bit distracted in 1955. That year stands out as some strange kind of capitalist baptism, a full-on deluge of consumerism in a nationalistic capacity. Suddenly, or so it seems from a 2020 perspective, to be American was to be a consumer. And forever after, the two identities would be synonymous.
Why? I'll tell ya.
In 1955, Americans saw a number of new and exciting offerings that would come to shape and groom "the American" in new and unprecedented ways:
Disneyland opens in Anaheim, California

McDonald's opens its first franchise restaurant outside of Chicago, Illinois

Zenith launches the first wireless TV remote control

Tappan Stove Company sells the first domestic microwave oven
Each new product or experience in and of itself seems rather harmless, but when you put them all together in a bullet point list, one can see — or so I hope! — how 1955 was very much a turning point for the United States of America, and consequently the entire planet.
In 1955, we're ten years into our post-WW2 blissed out honeymoon and there's just nothing better than working all day and commuting (read: driving your own car) home to the suburbs to watch TV with your new remote control while microwaving dinner (or picking up McDonald's) and counting the pennies you've saved towards your trip to Disneyland. Life is grand!
Of course, the rising fast food industry would soon come to foster and feast on our gluttonous craving for instant gratification. (And launch a new era of labor exploitation, though that's another story.)
Back to the cars!
The burgeoning US automobile industry — which manufactured more than 9.6 million automobiles, one for every 17 Americans, in 1955 — would continue to coax independent travel, the work commute, and suburbia… none of which really jived with concern for climate change or any semblance of a sustainable lifestyle.
Then — and here's the kicker — President Eisenhower signed the Federal-Aid Highway Act of 1956, creating a 41,000-mile "National System of Interstate and Defense Highways," effectively ( and literally?) cementing the relationship between the automobile and the United States.
And that was that. Those decisions, over 60 years ago, sealed the fate of every living creature on Earth.
For nearly 100 years before 1955, scientists around the world theorized, suggested, and proved that our collective actions would undoubtedly raise the temperature of our planet. We may have had a chance had we listened to Plass, Callendar, Arrhenius, Tyndall, and any of the other scientists who warned us of the dangers of carbon emissions and global warning.
But now? We're screwed.
Now we're paying the price for these last 60+ years of unabashed production and consumerism (and greed) with little to no consideration for any impact on the environment. And we will continue to be punished for the egregious endeavors of the Fords and Eisenhowers of the world for at least the next 30 years, whether or not anything changes.
As if curbing climate change wasn't tough enough already, the new research finds that even if humans sharply reduce greenhouse gas emissions now — cutting carbon dioxide, methane and other pollutants by at least 5 percent or more a year — it could still take decades before it's clear those actions are beginning to slow the rate of the Earth's warming.

In short, because of the massive amount of fossil fuels burned since the Industrial Revolution, and the complexity of the Earth's climate, there's no quick payoff from changing our fossil fuel habits, researchers found.
Earth's climate is like delivery pizza: whatever your order will arrive in 30 years or less, guaranteed!
And I get it — It's really, really, really hard to take actions now that will benefit you in 30 years. And it's even harder to take actions that will benefit someone else in 30 years.
But who are we to deny our children and grandchildren the awesome delight of a perfect pizza pie? How could we — through greed or laziness or apathy — deprive future generations of a savory, hot and spicy pepperoni pizza with extra cheese?
Yes, the pizza we ordered is going to arrive rotten, poisoned, and burnt to a crisp.
But maybe, just maybe, if we work hard enough, if we fight for change, the pizza our children order will be ample and delicious, topped generously with the fruits of our labor.
FIN.
Pizza makes me think anything is possible.