Farming Is Looking Up & Glorious Indoor Gardens
THE MELT - Issue #12
Howdy, y'all!
Today is a new moon, which asks us to find alignment with where we're heading next on our individual journeys… it's about radical trust, trust in one's self.
Also, there's a comet in the sky! NEOWISE will be closest to Earth on Wednesday but you should be able to see it in most skies on most days around dusk just below the Big Dipper.
Andy P. Smith
Vertical Farming Must Save Us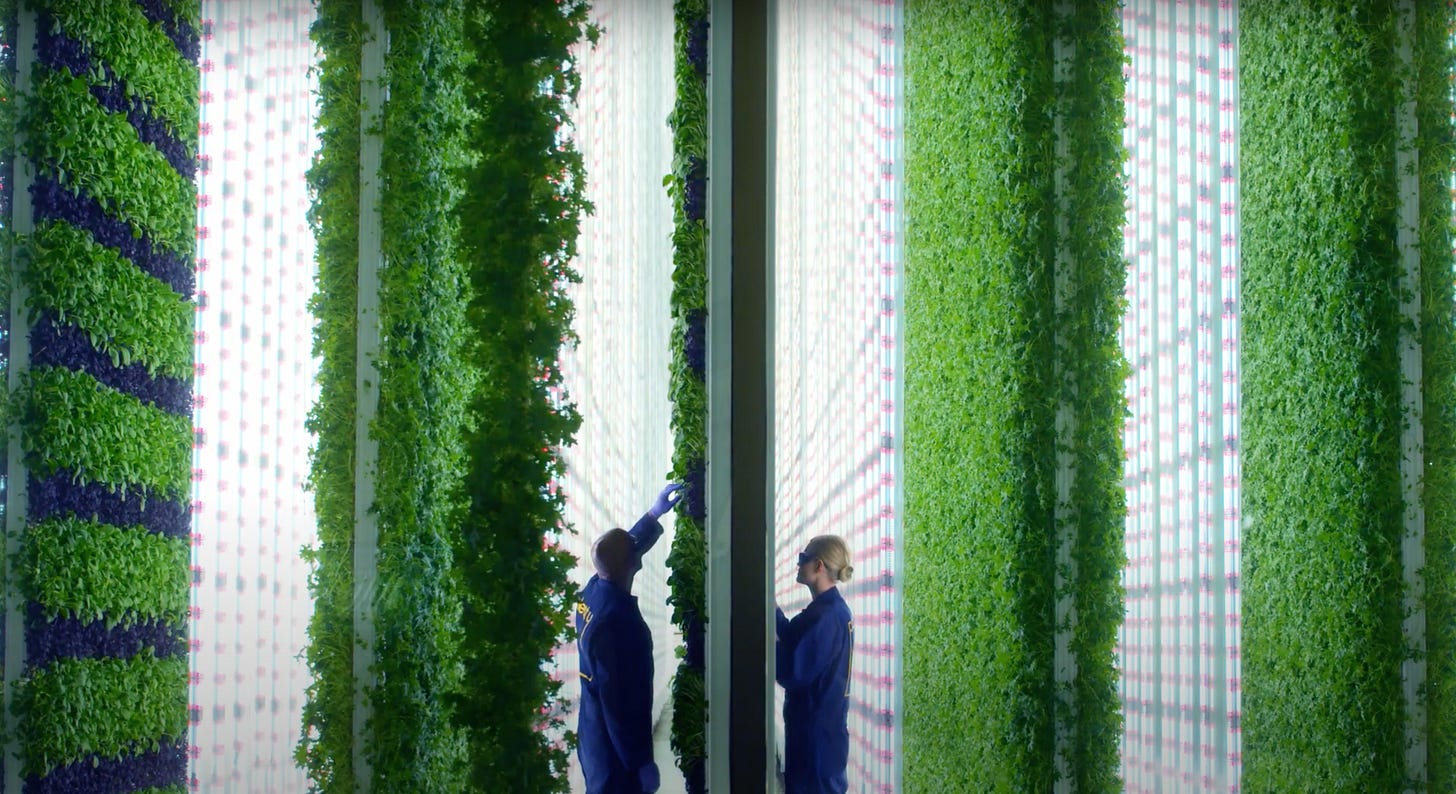 Rising temperatures and more frequent droughts caused by climate change — not to mention pandemic-related border closures and supply chain disruptions — will continue to disturb and damage traditional farming and distribution.
Plus, the world's population is growing dramatically. Already, today, over 820 million people are hungry. And scientists estimate food production will need to increase by 70% by 2050.
By 2050 the world's population will reach 9.1 billion, 34 percent higher than today. Nearly all of this population increase will occur in developing countries. Urbanization will continue at an accelerated pace, and about 70 percent of the world's population will be urban (compared to 49 percent today). Income levels will be many multiples of what they are now. In order to feed this larger, more urban and richer population, food production (net of food used for biofuels) must increase by 70 percent. Annual cereal production will need to rise to about 3 billion tonnes from 2.1 billion today and annual meat production will need to rise by over 200 million tonnes to reach 470 million tonnes.

— How to Feed The World 2050, Food and Agriculture Organization of the United Nations
We need to make more food, more efficiently, and more economically. It's not a matter of if but rather when we will rely primarily on indoor farming for our food.
Indoor farming and "greenhouse" methods can be traced back to the late Roman Empire and were widely adopted by European farmers in the 1800s so they could grow tropical plants in their otherwise temperate climates.
The value and benefits to indoor farming are numerous, namely safety from pests and disease, as well as year-round farming capabilities, water, and energy efficiency, expedited crop growth, not to mention shorter supply chains with urban locations.
Hell, you may already be an indoor farming advocate yourself! The global indoor farming market accounted for $106.6 billion in 2017 and is expected to reach $171.12 billion by 2026.
How can this market account for so much? Well, crop yields are exponentially higher than traditional farming methods because of the year-round capabilities but also because indoor farms are grown in three dimensions, with vertical stacks and stacks of "farmland." And today, vertical farming technologies are increasingly more accessible.
More and more companies are providing the tools and infrastructure to build and maintain indoor, vertical farms, including Brooklyn-based Square Roots who are building "a scalable farm-tech platform to enable the sustainable, distributed, and resilient food system."
The vertical farm company Plenty — founded five years ago, based in San Francisco, and backed by Jeff Bezos among others — grows its plants in massive towers using LED lights and zero pesticides, herbicides, synthetic fertilizers, or GMOs. The farms are equipped with thousands of infrared cameras and sensors that collect data for machine learning analysis to then optimize crop growth.
Plenty just launched its new Tigris farm that can produce fruits and vegetables with less than 5% of the water and 1% of the land that would be required with traditional farming.
And there are others, other companies working hard to build a future where food can be grown cleanly, efficiently, and locally.
In 2013, New York's Gotham Greens built a 20,000 square foot farm on the roof of a Brooklyn Whole Foods Market. And AeroFarms has over 100,000 square feet of vertical farms in New Jersey.
Though still, some are not so bullish on the vertical farming market. The startup costs for a vertical farm can be astronomical. In fact, AeroFarms spent $30 million on its flagship aeroponic farm in Newark: heating and cooling systems, ventilation, lights… it adds up.
A 2018 article in Eater.com detailed that operating costs for a vertical farm can be as much as $27 per square foot, three times as expensive as a greenhouse with natural sunlight. And if that expense is passed along to the consumer, will they pay the increase?
Come 2050, or even 2030, consumers may not have other options.
Bless Up, Hilton Carter
If you've been to my house, you know I have a bit of a plant problem. Not that I see it that way! I love all my plants. What started as a small spider plant propagation station has now spread throughout my loft like a tacky trend across the nation. The other day I actually counted my plants… all told, I now have 58 potted plants. Wild, I know! Literally, wild! Haha!
While it may take me hours to water them all — I usually spread it out across a day or a weekend — I absolutely love my plants.
And that's why I was so damn excited to see this video with Hilton Carter, a Baltimore-based writer and horticulturist. He's so damn inspiring and soothing, I hate it. No really, he's fantastic and you should check out his books and plant cradles. And if you want something with Carter that's a little more "QE", Apartment Therapy did series with him called "House Calls with the Plant Doctor."
FIN.