I moved to New York City 20 years ago.
THE MELT - Issue #22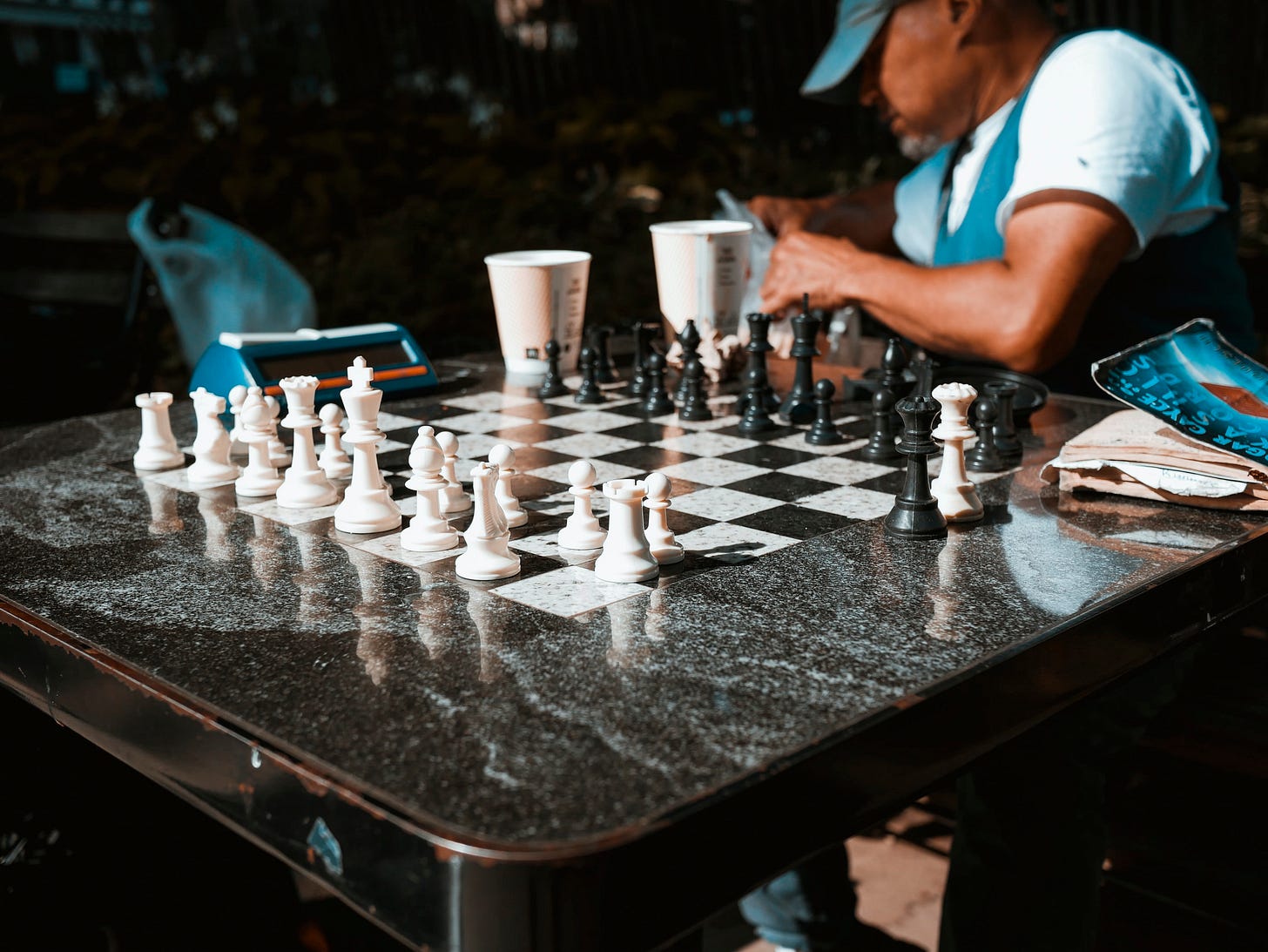 I moved to NYC to attend college (at Pratt Institute), like many other young transplants. And I was excited, eager to start my new "semi-adult" life in a rather safe campus bubble at the crossroads of Brooklyn's Ft. Greene/Clinton Hill/Bedford-Stuyvesant neighborhoods. I felt kind of like an explorer, an astronaut, completely provided for at basecamp while taking excursions and conducting investigations beyond the campus walls.
Most every student I met, my new friends, thought it was weird that I hadn't visited campus before enrolling. In fact, I hadn't been to New York City before moving here. "But how did you know you were going to like it?" someone asked me.
As an army brat, relocating regularly as a child, having attended three different high schools, I thought that was the strangest damn question I'd ever heard. How would you know if you were going to like anything? Even weirder, how could you expect to form an opinion on New York City during a long family weekend visiting your prospective college campus?
Hell, I still don't know if I like it here.
I've visited 22 countries and 49 states (sorry, North Dakota, one day!) and it's hard to imagine living somewhere other than New York City. Some people say it's the "diversity," but I feel like when people say things like that what they really mean is that they love the serendipity and discovery that this city offers. In fact, many countries — 84 to be precise — are considered more diverse than the United States, and, within the US, New York City comes in at number four on most lists, ranking less diverse than Sacramento, Oakland, and Stockton, California.
And with regards to population density, New York City ranks at number six, but what's important also consider there is that the largest population of those five "denser" cities is not even 67,000, a number smaller than the capacity of each of the top 60 sports stadiums. Whereas, comparatively, New York City's population of 8.4 million would fill 125 stadiums each at a capacity of 67,000.
And lastly, New York City is one of only a few great "walkable" cities. The street grid of Manhattan paired with the world's fifth-largest subway system, is the glue (the lubricant?) that allows for serendipity and discovery that I would argue is inherently unique to New York City.
Are there more "diverse" cities, more densely populated cities, larger subway systems? Yes, yes, and yes. But like many rare and awesome things in this world, New York City is greater than the sum of its parts.
Ok, so imagine you're an eager, ambitious 18-year-old who just parachuted into this urban jungle. Not quite fearless, you cautiously begin to explore, slowing advancing and widening your scope.
I remember that very first night when a few friends and I braved the subway for the first time to go to an all-ages show at The Knitting Factory (off Church Street in Tribeca back then) and while it certainly wasn't any of our first experiences at a show like that, it was an adventure and new depth of experience, nonetheless. Afterward, wandering around lower Manhattan looking for the subway (no smartphones back then), passing mountains of trash bags and football-sized rats, we stumbled upon a vagrant (or so he seemed then) who was taking a piss on the curb in the shadow of some scaffolding. I think one of us may have apologized to him for our disturbance or otherwise he marked us as fresh meat because he then turned to face our group as we retreated and continued to piss while swinging his hips and shimmying his chest as his penis swung in circles spewing urine into the air like a circle sprinkler. "Welcome to New York City, folks!" he yelled at us and cackled.
Honestly, in the moment, we were all kind of spooked. But by the time we made it to the train and were confidently heading in the right direction (home), we each took turns imitating the man's piss play belly dance and shouting "Welcome to New York City, folks!" with varying inflections, like, "Welcome to New York City, folks!" or "Welcome! To New York City, folks!" We laughed then and again every time one of us repeated the mantra for years to come.
Those first years I mostly hung out in the West Village. I was a pseudo-hippie who greatly admired the beatnik authors, so Washington Square Park and its surrounding cafes and buskers seemed downright magical to me. Initially, I spent my time scribbling in notebooks at Caffe Regio (opened in 1927!) and people-watching in the park, until, eventually, I got the courage to start playing chess with the locals.
I had played chess all through middle school and high school, semi-professionally, won a couple of scholastic tournaments, which is only to say that I know how to play. And compete. And that surprised the players who worked the tourists in Washington Square Park. Soon enough, I endeared myself to them through running small errands and holding spots for when they needed to go somewhere themselves — some kind of potzer internship I suppose.
At some point I had earned my stripes and was sitting alongside them — smoking blunts of schwag and drinking 40oz bottles of lukewarm malt liquor — and sometimes I held down my own table and swindled my own tourists. Using all the strategies I developed playing in tournaments paired with the brash tactics I learned from the other park players, I could hold my own. On a good day, I'd play chess all day and get a little buzzed. On a great day, I'd play chess all day, get a little buzzed, and head back to my college dorm with a pocket full of crumpled up bills.
Washington Square Park still has some chess players but it's nothing like it was 20 years ago. Around 2010 I'd say, it seemed like more than a few of the players from the park weren't hanging around anymore, which happened from time to time, but it was always taboo to ask about anyone… jail, psychotic breaks, injury, hospitalization, all reasons someone wouldn't show up for a spell and then sometimes one day show up again. But what happened was that most players took their games to Union Square, a large, terraced pedestrian plaza backed by a large park at a major thoroughfare and intersection and subway connection.
And I'd hang out at Union Square too, but didn't play all that much. By then, I had kind of fallen off my game — gone punk, so to speak — and would visit Union Square to eat a bag lunch on the steps and people watch. Also, I'd often go to the movies at the cinema there on the corner and for many years I had a good friend who lived a few blocks down University Place. And I have some dear, fond memories of Cafe Loup, now, unfortunately, closed permanently.
Union Square was a hub, a meeting place, somewhere to loiter, somewhere to think, or not think. Traditionally, it was a space for protest and collective action dating back to the Civil War. Back then, and still today, it's one of the great public spaces of this city. Aside from the gauche holiday market at the end of the year and the seasonal farmer's market — the later of which is amazing and fitting for the space — Union Square is one of the few places in New York City that hasn't changed all that much. It's never been retrofitted with commerce and cafes disguised as amenities (like Bryant Park) and it's still small enough to maintain an edge (unlike Central Park).
I'd like to think it's somehow protected, preserved as a space for reflection. It's a safe space, somewhere to wait freely for your friends and somewhere to lose yourself in the vast anonymity that is New York City. And not to be discounted, but I think it has something to do with the large scale artwork the overlooks the pedestrian plaza.
For 21 years this October, a public art installation called Metronome has looked down upon Union Square. Created by Kristin Jones and Andrew Ginzel, Metronome is a unique private commission of public art. Built upon the facade of One Union Square South is a multifaceted work: rippling, concentric circles emanate from a black hole surrounded by gold flake with an outstretched hand above and a protruding wand and a large stone below; the left of that is a 15-digit LED screens installed flush with the building.
It looks like this.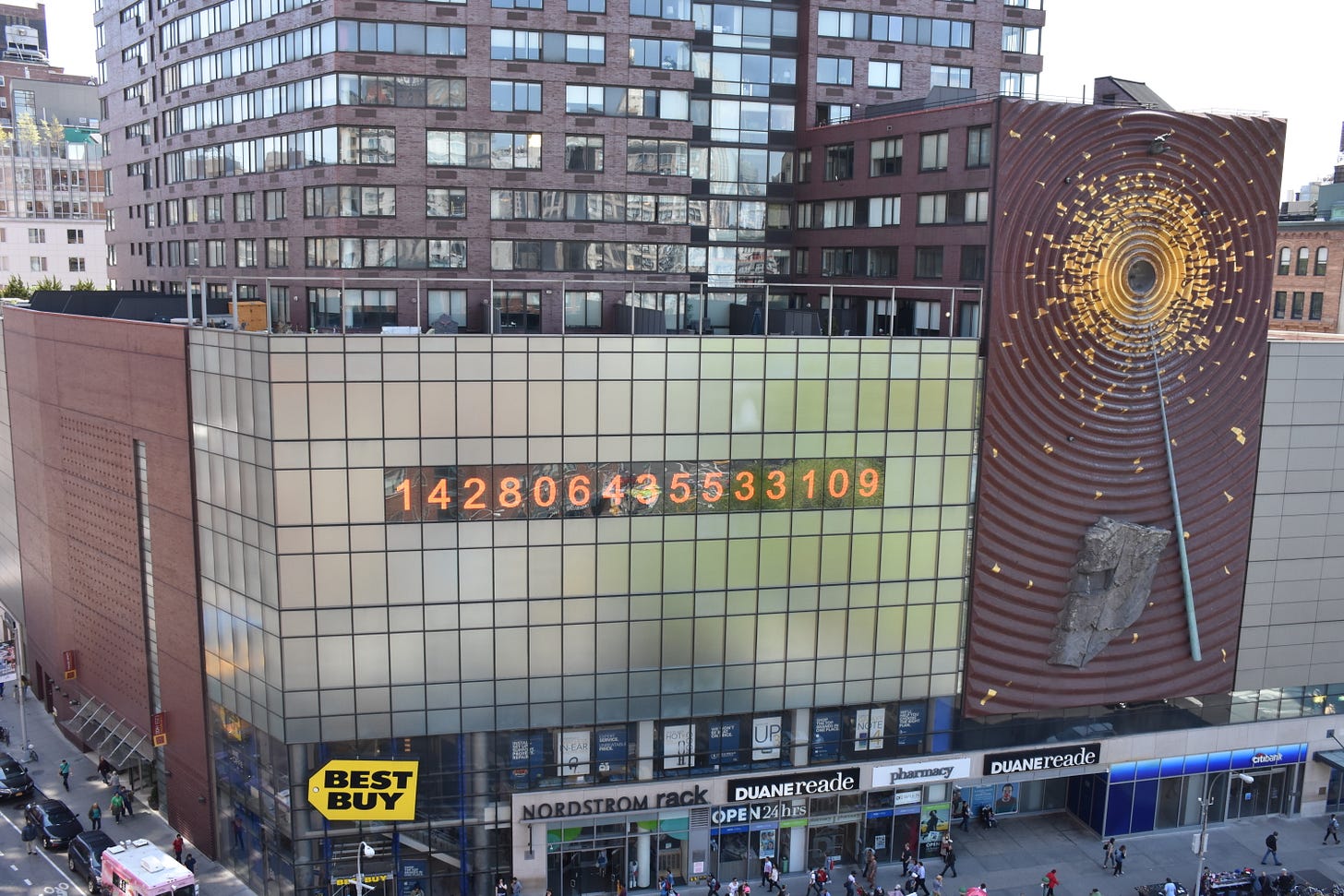 Back in my first year here, the hole of Metronome would emit smoke or fog, and sometimes a loud explosion sound, which, post-9/11, happened no more.
The LED screens, a series of numbers, never seemed to make sense. The long number was always contradicting itself, somehow increasing and decreasing at the same time, or so it seemed. At some point, someone told me it was the amount of acreage left in the Amazon rain forest, which seemed like something that could both increase and decrease simultaneously?
"No, dummy," someone else once told me on one of those insanely hot and humid NYC summer afternoons. "It's what time it is on the left, and how much time is left in the day on the right."
Left of the vertical brick center, on the glass façade of the building is a horizontal clock with pairs of digits that accurately display the hours, minutes and seconds that have passed since midnight, as well as the time remaining in a 24-hour period. Like an hourglass that contains a specific measure of sand, the digital time piece counts up on the left and down on the right, measuring both the sum and the balance of the day. The center three digits are a frenzy of intangible fractions of seconds, which reveal the pace of life in the city.

— Kristin Jones and Andrew Ginzel artist statement of Metronome
And now, just this week, Jones and Ginzel have collaborated with the artists Andrew Boyd and Gan Golan to give Metronome a new meaning and purpose. The numbers now offer a dire warning and are now undoubtedly counting down.
On Saturday at 3:20 p.m., messages including "The Earth has a deadline" began to appear on the display. Then numbers — 7:103:15:40:07 — showed up, representing the years, days, hours, minutes and seconds until that deadline.

As a handful of supporters watched, the number — which the artists said was based on calculations by the Mercator Research Institute on Global Commons and Climate Change in Berlin — began ticking down, second by second.

"This is our way to shout that number from the rooftops." Mr. Golan said just before the countdown began. "The world is literally counting on us."

The Climate Clock, as the two artists call their project, will be displayed on the 14th Street building, One Union Square South, through Sept. 27, the end of Climate Week. The creators say their aim is to arrange for the clock to be permanently displayed, there or elsewhere.
Pretty cool, huh? Here's more: ClimateClock.world
I passed by Union Square yesterday to take a look. Sorry, no selfie!
Now, it looks like this: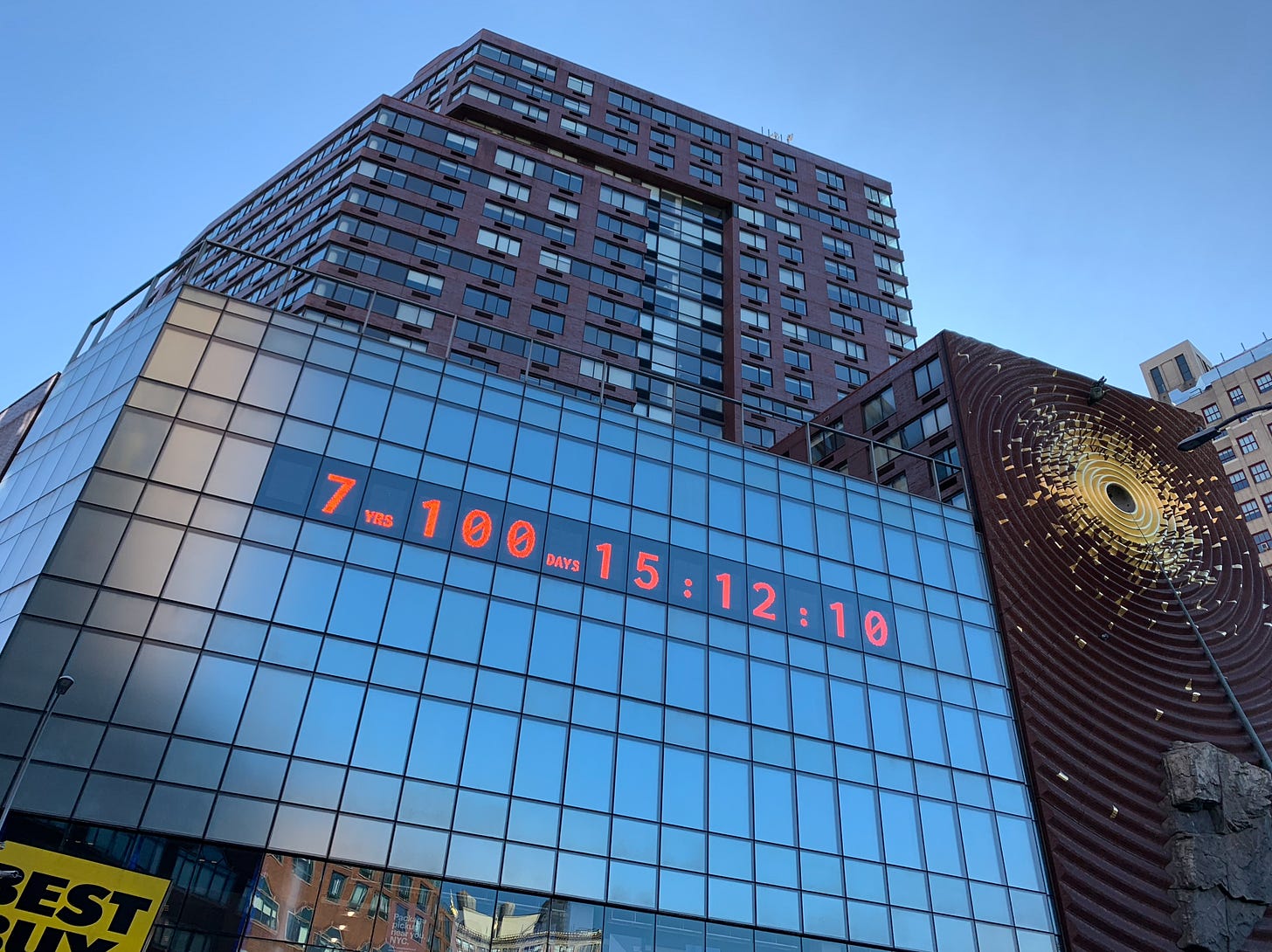 I'm realizing this dispatch has more to do with my early experiences living in New York City than it does with the Anthropocene or climate change. But that's ok, I hope you'll agree?
That said, I am very impressed by this recent evolution of Metronome. While I'm generally baffled that the media and our world leaders don't talk of climate change with the appropriate amount of ominous urgency, here's something to that effect, right? A countdown. We need a goddamn countdown.
Ever always, and perhaps now more than ever, Union Square is a space for thought and reflection. This Climate Countdown seems like a perfect fit.
Maybe things are changing? And by "things" I don't mean the climate is improving, make no mistake. I mean our public perception and general awareness and concern may be changing. Then our (in)action will also hopefully change. Today, this morning, I was damn right giddy to see the front page of The New York Times with a headline article about climate change.
It's a damn good read, "A Climate Crossroads With 2 Paths: Merely Bad or Truly Horrific," and presents some important perspectives, which I'll explore in a forthcoming dispatch.
For now, it looks like this: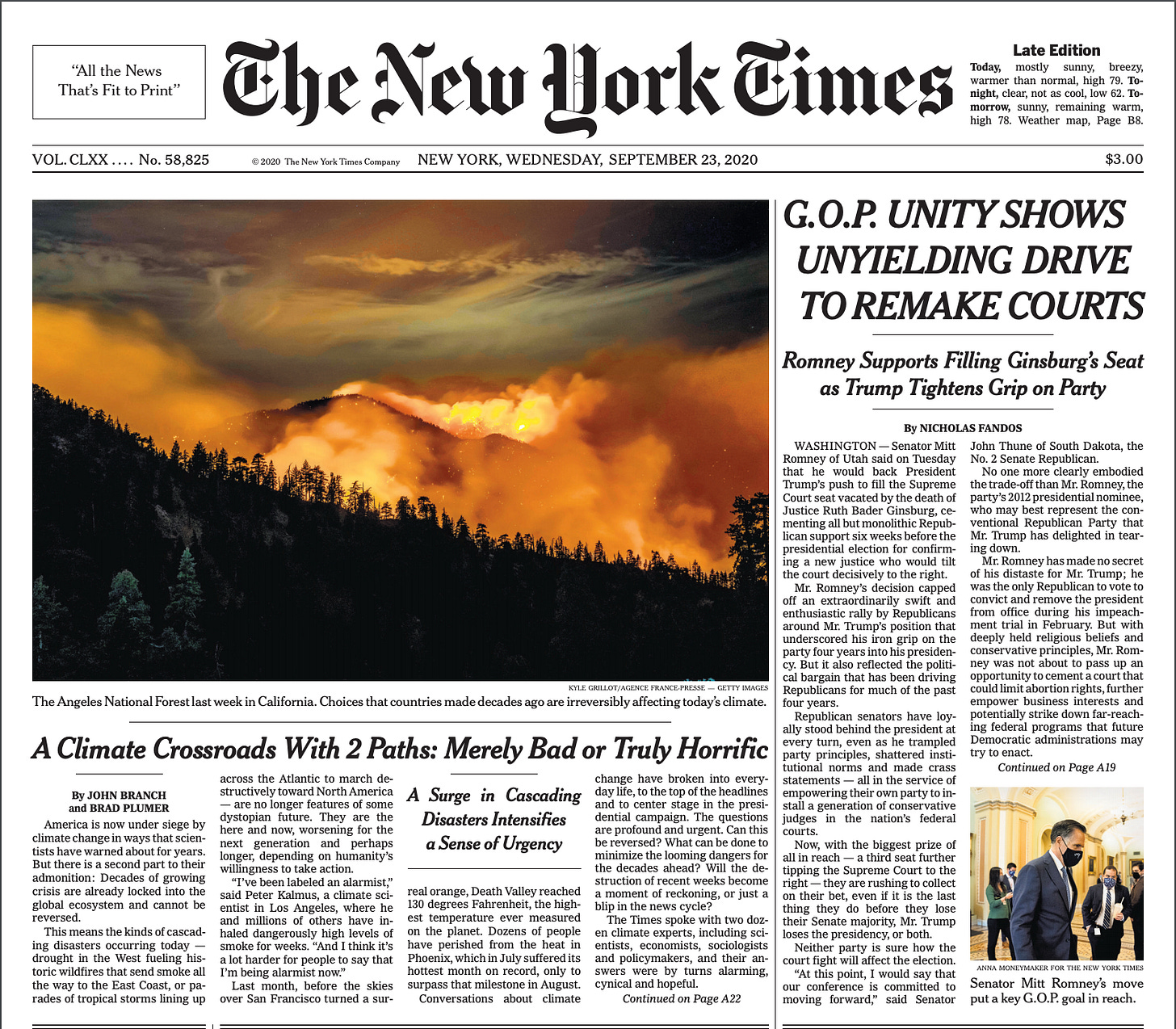 The new Metronome countdown in Union Square now reads 7 years, 99 days… That's the deadline that will determine, as the NYT puts it: if our future will be "merely bad" or "truly horrific."
For perhaps the first time ever, I'm nearly optimistic about our approach to climate change. If it means getting worse before it gets better, well, we're there. It's not something the United States can ignore anymore: the fires, the hurricanes, the uncharacteristic heatwaves… even now (at least for this week) everyone in Union Square will be faced with the countdown towards the point of no return, a timer on inaction.
I just wish that countdown read 27 years, 99 days… dating back to when I, as a teenager, first sat in Union Square to pause and reflect like so many others that day, like the hundreds, thousands, maybe millions who have also sat to reflect there in the 20 years since. Maybe then we wouldn't be faced with the choice between "merely bad" and "utterly horrific."
FIN.
Thank you for reading! Please forward along to anyone you think may be interested.
Also, every Wednesday (that's today!), I host a freeform radio show on KPISS.fm from 2pm to 3pm ET. Tune in!