RIP Polar Bears
THE MELT - Issue #14
If they're starving, what do you think your future looks like?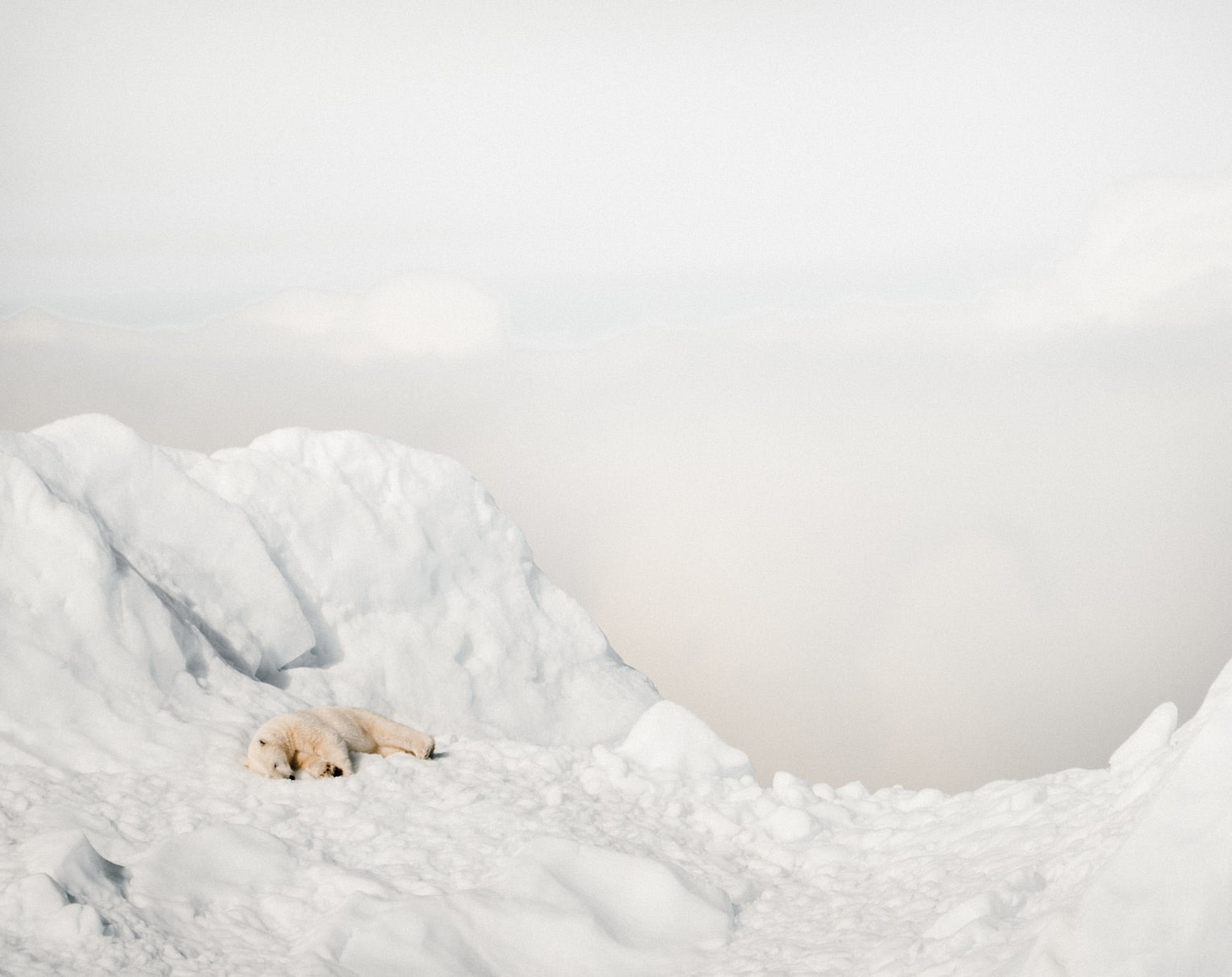 Well, it was a big bear… a large body, stocky legs, a long snout, shaggy hair, paws with claws, and a short tail. They could weigh over 1,500 pounds, three times as big as a cow. And it was completely white. Yeah, all-white fur, with a big black nose and two black eyes. This way it could blend in with the ice and snow where it lived. And even though they were really strong swimmers, they had nowhere to go when the ice melted. And that's why we don't have polar bears any more.
It's going to be tough to explain these things to your grandchildren. But let's be frank here: there's no saving the polar bear.
A recent study from the University of Toronto, published in Nature Climate Change on Monday, reads that polar bears will be starved into extinction by 2100. And truth be told, it may be sooner than that.
Scientists wrote that while "moderate emissions mitigation" could prolong the projected life-expectancy for arctic species, it won't keep some populations from reaching extinction by the end of the century.
Personally, I've never seen a polar bear. And I probably never will.
And while many don't recognize the seriousness of this situation — this is actually funny, though: "Encouraging Report Finds Polar Bears Evolving Aerospace Engineering Skills Necessary To Escape Overheating Planet" — it's important to note that changes to our planet affect Everything On This Planet.
Polar bears are just the first to die.
Animals currently on the critically endangered species list include:
A harrowing scenario analysis of how human civilization might collapse in coming decades due to climate change has been endorsed by a former Australian defense chief and senior royal navy commander.

The analysis, published by the Breakthrough National Centre for Climate Restoration, a think-tank in Melbourne, Australia, describes climate change as "a near- to mid-term existential threat to human civilization" and sets out a plausible scenario of where business-as-usual could lead over the next 30 years.
Vice, as you know, can be a bit sensationalist. And more than a few scientists criticized the Breakthrough report for basing their findings on "a few of the scariest papers they could find," claimed Richard Betts, who leads the European Union project that studies the impacts of extreme global warming.
"While there is plenty of scientific evidence that climate change will pose increasingly existential threats to the most vulnerable individuals in society and to key global ecosystems," wrote UCLA researcher Daniel Swain, "even these dire outcomes aren't equivalent to the 'annihilation of intelligent life,' as is claimed in the report."
Polar bears are going to starve but humans will be ok, so not a big deal.
Let's think about how "existential risk" plays into all of this, shall we? If climate change will not completely wipe out humanity, all 7.8 billion of us, what's an acceptable amount of loss?
Let's say that climate change only kills… I don't know, 10% of humanity? No, let's go lower, just 4% of humanity, how about that? Would that be acceptable? That's not a "global catastrophic risk" to the human species, right? I guess it's debatable, which is what these scientists are saying. I don't know where the line is. But what I can tell you is that 4% of humanity is almost exactly the entire population of the United States.
Right now, today, "1% of the world is a barely livable hot zone," and in the next 50 years that will climb to almost 20%. I know that's difficult to imagine, but let's see if I can put it simply: for billions of people, it will soon be too hot and too dry to farm and there will be no water to drink.
And even that's hard to imagine, so let's just imagine you're a polar bear — just bear with me! You're a polar bear and you're living your life and slowly, maybe even quite suddenly, you find yourself unable to get food, your home has been washed away, and without a means to provide for your family, desperate and struggling to adapt, exploring to find a new life somewhere else, you ultimately succumb to starvation and die. Or maybe you eat your children to survive.
This is may read like hyperbole — and forgive me for my morbid analogies — but it's real.
You're the polar bear.
FIN.