Soon enough, we'll all be firefighters
THE MELT - Issue #20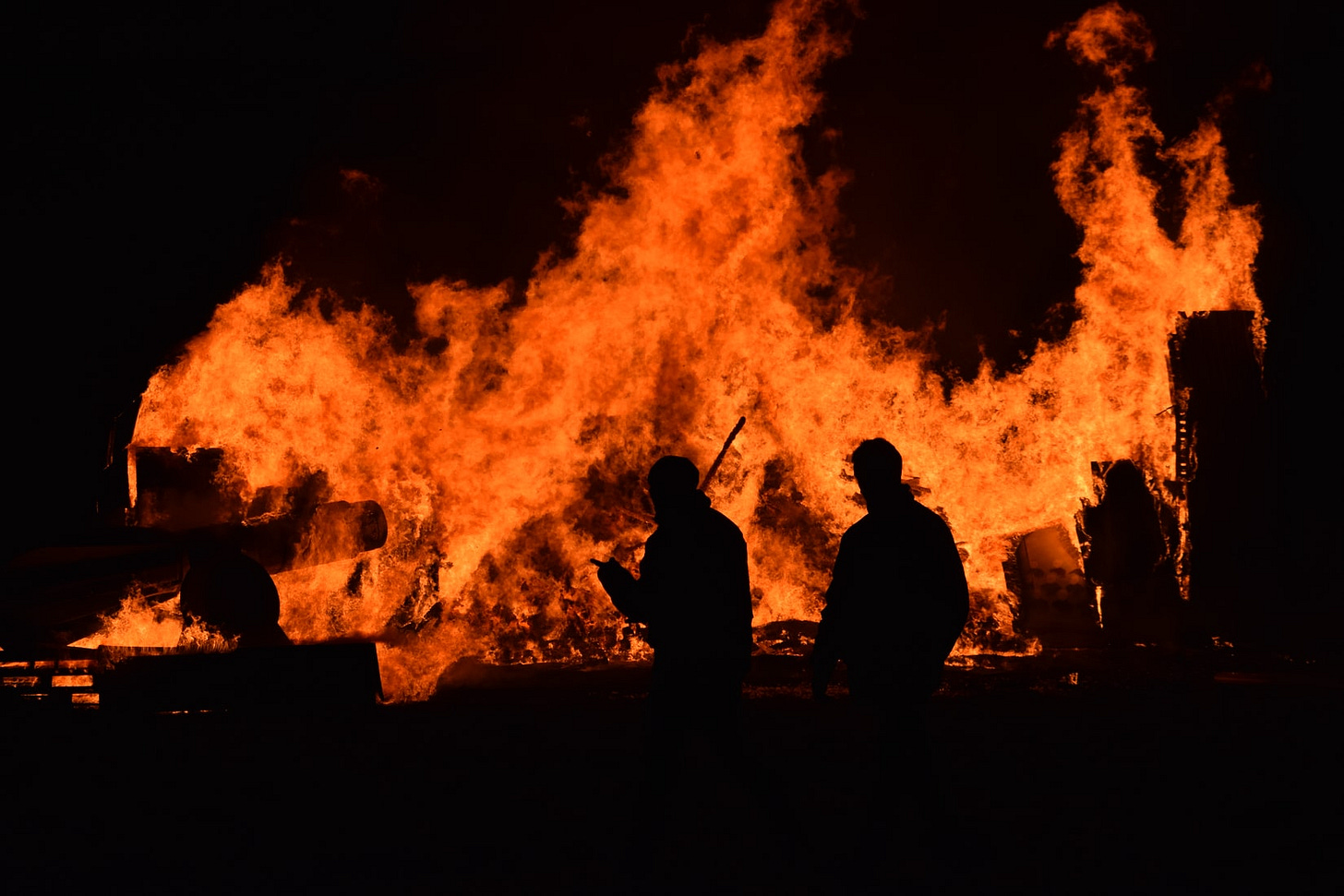 As a young kid, I spent some time in the south: Texas, Louisiana, North Carolina. I've hunkered down through my fair share of hurricanes.
I remember one storm in North Carolina that took a 100-year-old pine tree from our yard, plucked it out of the ground, and tossed it through the roof of our neighbor's house. Another tree — from who knows where — landed on our other neighbor's car.
After Katrina, my dad and I drove from Seattle, Washington to Lafayette, Louisiana to help my aunt and her family whose house had six feet of water. They also lost their car. Like, literally, they didn't know where it was. It had just floated away during the storm.
During Sandy, my wife (girlfriend at the time) and roommate and I opted to stay put in our second-floor apartment in Greenpoint, Brooklyn, three short blocks from the East River. We had all the provisions, ya know, bottled water, canned food, candles, flashlights, wine, board games. I wasn't really worried all that much.
And then, that night, when the rain and wind started picking up, and the windows were rattling, and the street started to shimmer with water, and my roommate asked, "So, like, at one point do we decide to evacuate?" I couldn't help but laugh. I think I even said something, like, "Yesterday, brah!"
At a certain point, there's absolutely nothing to be done. Sure, before then, if you can leave, you leave. If you have the means to get out, you get the hell out. And if you stay, you stay. Either way, you hope for the best. Yes, you can board up your windows and maybe build a sandbag wall, but there's really not much you can do to defend against a hurricane.
Or a fire for that matter.
The devastation in California from these fires is hard to imagine. An area the size of Delaware has been burned down to nothing. At least seven people have died. Over 1,000 homes and countless other buildings have been destroyed.
They say the air quality in the Bay Area has been worse than that of Beijing or Delhi during Monday morning rush hour.
And while two of the larger fires (SCU Lightning Complex Fire and LNU Lightning Complex Fire) are now reported as nearly 80% contained, the CZU fire is not yet 50% contained with no forecast for further containment. And those are just the largest and most destructive active fires right now.
The largest California fire to date was 2018's Mendocino Complex Fire that burned 459,123 acres of land… 67,545 acres more than the scope of the current SCU fire. For perspective, the borough of Queens is 73,400 acres.
And we're not done yet. And that's just one of the fires.
There are currently seven large, active fires of the nearly 600 active fires from last month. On the map, it looks like California is diseased, covered in pockmarks. (Zoom out to see all the fires in Arizona, Utah, Colorado, Idaho, Montana…)
But speaking of disease, it's true: we're still in a pandemic. California has now clocked over 700,000 COVID cases and over 13,000 deaths. The only good news is that cases and deaths in California do seem to be on the decline since the second peak in mid-August. So that's cool, I guess.
You know what's not cool? The weather.
The National Weather Service is forecasting dangerous heat and fire conditions — beginning tomorrow, Friday, peaking Saturday, and possibly extending through Monday — for much of California as well as parts of Arizona and Nevada.
Ain't nothing new for The Grand Canyon State. Arizona has already been sweltering under downright oppressive heat all summer. July was the hottest month ever recorded in Phoenix. Wait, no. Sorry! July was Phoenix's second hottest month in history. August was the hottest. Yeah, my bad. It's hard to keep up!
The average high temperature in Phoenix in August topped 110 degrees for the first time ever. This year Phoenix counted a record-breaking 50 days of 110 degrees or higher. Yup, thirteen of those days reached temperatures of 115 degrees or higher. On the other end of the mercury, there have been 28 days with lows in the 90s this year. And it ain't just Phoenix. August was also the hottest on record for Flagstaff, Prescott, Payson, Winslow, Page, and Tucson.
And California is cooking too. Today, the National Weather Service reported that highs in the San Fernando Valley could reach 115 degrees.
This is not even three weeks after the last heatwave that caused rolling blackouts across California. In fact, at 3:41 pm on Sunday, August 16th, Death Valley reached an unimaginable 130 degrees Fahrenheit, "the highest temperature ever reliably recorded on earth."
But I digress! Let's get out of the frying pan and back into the fire!
The weather conditions forecasted for Southern California this weekend bring more than all-time record-breaking heat but also very favorable conditions for the likelihood of more fires.
I hesitate to call them wildfires. Yes, the largest two of these fires were caused by lightning strikes, which would seem natural and "wild," but let's get real here: these fires, in recent years, and all across California, are about as natural as the 287 million automobiles in the US. It's about as natural as the dangerous amount of Carbon Dioxide in the air. It's about as natural as the fact that 19 of the 20 warmest years on the planet have occurred since 2001. I mean, even a Bay Area lightning storm — this one with 2,500 lightning strikes overnight — isn't exactly a common occurrence: the last severe thunderstorm warning in San Francisco was 15 years ago.
And if that's not enough — get this — of the 15 "wild" fires recorded last month in Lake Tahoe, Nevada, guess how many were started by lightning? Four. Now, guess how many were started by humans? All the rest of them! Eleven of Tahoe's "wild" fires last month were started by campfires lit by people either too dumb to know it's illegal to have (charcoal or firewood) fires in Tahoe between June and November or too damn entitled to care.
I suppose that's the difference between fires and hurricanes: some fires can be prevented. There are laws and ordinances that speak to this, in the best interest of everyone. Also, while you can't really "fight" a hurricane, you can fight a fire! That is if you have firefighters.
Because of the Covid-19 risk, the firefighters have had to practice social distancing; they can't just hop into trucks together or get close on the lines. In past years, a solid chunk of California firefighters have been prisoners working under widely denounced conditions. But 8,000 prisoners have been released because of Covid, sharply limiting that pool.

— Dana Frank, The Guardian, September 3, 2020
California has been putting prisoners to work as (wild)firefighters for decades. And I know what you're thinking, don't worry: they get paid! The state pays them precisely $1 per hour. (When they are not fighting fires they earn between $2.90 and $5.12 per day, according to the prisons department. Yup.)
So, if not prisoners, who exactly is fighting these fires?
Nearly 14,000 firefighters were out on the frontlines last week. It's mind-boggling that 14,000 firefighters are not enough. But I suppose that just speaks to the magnitude of what they're battling.
It's not the largest fire in California history. It's the second and third largest fires in history, at the same time.
But we're not struggling to extinguish these fires just because we're out of prisoner "labor" after a small amount of them were released so they wouldn't die from COVID in prison. (For those of us keeping count: over 800 prisoners and correctional guards were killed by COVID in California.) The virus has also infiltrated the facilities that train prisoners to be firefighters. And 80 non-inmate firefighters had to quarantine because of exposure or potential exposure to the coronavirus. But that's not it either.
We are struggling to fight these fires because we have entered a new and unprecedented moment in nature, in the Anthropocene. These are not the fires we've had in the past. The Earth is kicking back, y'all.
It's difficult to admit that there really ain't much you can do to defeat a hurricane or countless wildfires. But even 14,000 firefighters aren't enough!
The saddest part of all of this — and my heart goes out to everyone affected by these fires — the truly saddest part is that this is probably just the beginning. These fires are quickly becoming the new normal.
As climate change continues, as severe superstorms continue to pummel the coastal communities, as massive wildfires continue to rampage across California and the Southwest, I mean, hell… Soon enough, we'll all be firefighters.